PMC MOVING- LYNNWOOD BASED MOVING COMPANY
Your Licensed and Insured Lynnwood Moving
Moving doesn't have to be a dreaded chore. With the right Lynnwood moving company residents can enjoy a stress-free, pleasant moving experience. That's exactly what PMC Moving promises, and exactly what we deliver. Our company hires only the best professional movers in the business, individuals who have years of experience and know how to treat customers with the utmost respect and courtesy. Further, we use only the highest-quality equipment and our trucks are immaculate and very well-maintained. We know that when hiring movers, Lynnwood residents are trusting that they will take great care of all their belongings. At PMC, we take that trust very seriously, and we treat your things as carefully as we would treat our own.
At PMC Moving we are truly Lynnwood moving company. We are headquartered in Lynnwood and have been since we started our business. Not only do we work here, but we're your neighbors and, as such, we genuinely care about the people who live here. Our goal is to provide top-notch, professional moving services at affordable prices. Relocation can be stressful, and we want to take the pressure off of you by making your move as problem-free as possible. That's why we offer a variety of customizable moving packages to suit your particular needs. Whatever the size and scope of your move, we'll work with you to find the best solution possible to pack up your items and move them to your new location.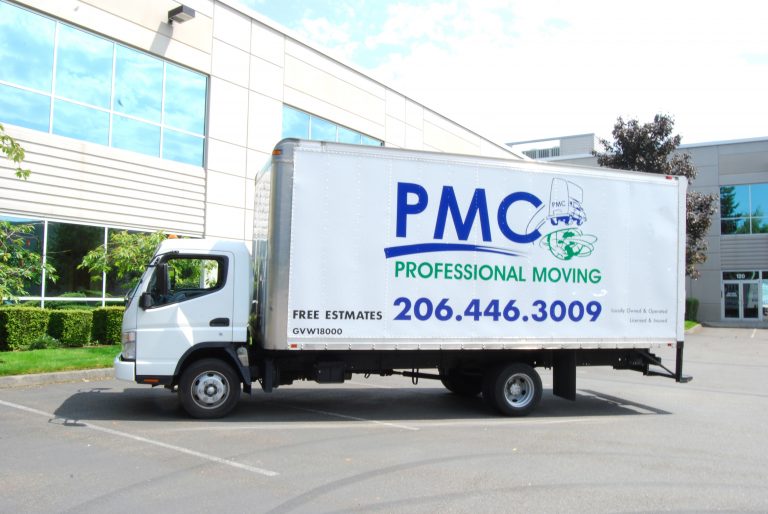 LYNNWOOD MOVING COMPANY THAT KNOWS WHAT IT TAKES TO MAKE YOUR MOVE STRESS FREE
PMC Moving also offers a number of ancillary services to ensure that we cover all bases when it comes to assisting you with relocation. For instance, for those concerned with the clutter that has accumulated in their homes, we offer sorting and removal services. Whether or not you're planning a move, our courteous employees will help sort through the clutter and haul away unwanted items, large or small. We also offer furniture pick up and delivery services. Does your Aunt Sarah have a dining table for you? Is your mother-in-law offering you a bedroom set? Do you want to purchase that antique armoire but you're not sure how to get it home? No worries! We'll pick up your furniture items and deliver them right to your home, placing them exactly where you want them! Pianos and large safes can cause a particular problem for movers. Lynnwood residents need not worry-they can call on us to move and deliver even these difficult items.
Call us today to learn more about our services or for a free, in-home estimate. You'll see why, when it comes to Lynnwood, people turn to PMC Moving.