PMC MOVING
---
pmcmovingllc.com
Telephone:
(206) 446-3009
Email:
professional.moving.co@gmail.com
(206) 446-3009
---
COMMERCIAL MOVING
When it comes commerical relocation many local businesses in the greater Seattle-Bellevue area count on PMC's expertise to help ensure the process gets done correctly. Office moving differs from residential and requires a more well-thought-out technical process due to the nature of the items typically involved and hiring an inexperienced mover can prove costly.
We provide years of moving experience moving small businesses and large businesses alike and have done work for many large, local corporations such as Microsoft, Amazon, and Boeing. We also offer moving services during your business' down time in order to avoid impacting your regular business hours.
At the time of the visual survey, we will collaborate with your staff to help create a system tailored to your business' specific situation. We understand that one office to another will vary in configuration, so often we will visit the new location and sketch a general layout. Furthermore, since businesses are generally comprised of multiple small offices we outline an itemized inventory list and distinguish the offices by a color coded system. See below for an example: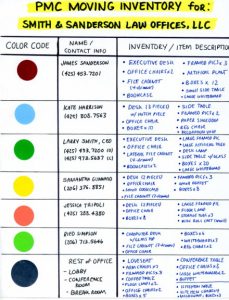 All of our office moving services include:
Professional Moving crew*
Professional Moving Truck
Assistance with layout of new office and Color-coded system
Heavy Duty, Quilted Furniture Pads
Hand Trucks, 4-wheel carts, Speed Packs