PMC MOVING - KENMORE
Your Kenmore Moving Company
When searching for the right Kenmore moving company, residents need to look no further than PMC Moving. At PMC, we take pride in our work and perform every move to the highest standards of professionalism. You can depend on us to provide clean, well-maintained trucks, top-quality equipment and courteous, professional employees. Whether you're moving one room or the entire house. If you're moving across town or across the state. We will work with you to customize your move so that every detail goes smoothly, exactly the way you want it to.
LONG DISTANCE, LOCAL, OR KENMORE TO KENMORE MOVES
For your convenience, PMC Moving offers a variety of options for your move. You can choose from a standard move, in which you do the packing and we do the moving, or an all-inclusive move, in which we do all the packing and all the moving. We also offer a partial pack, in which we will assist you with packing, and move everything once packing is done.
WE ARE THE GO TO KENMORE MOVERS FOR BUSINESSES
Businesses also need movers. Kenmore can also depend on us for quick, efficient office moves. We'll even disassemble and reassemble desks, bookshelves, and other furnishings! At PMC we also understand that not all moves are across the state - some moves are simply across the hall or across the street.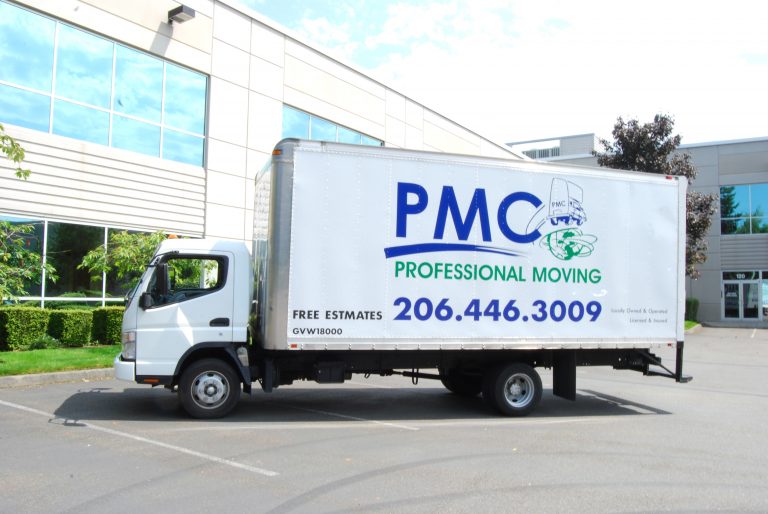 We want you to know that we are happy to undertake internal or short distance moves, and will give you the same high quality of service. No matter what service you choose, PMC Moving provides at least two trained, professional movers, a top-quality moving truck, heavy-duty quilted furniture pads, and all necessary equipment such as hand trucks, dollies, and hand carts.
PROFESSIONALS ALL THE WAY
At PMC Moving, we are locally owned and operated and Kenmore is very familiar to us (see our customer map). We know the people, we know the places, and we know how to get you where you're going. We hold a valid UTC permit and are fully licensed and insured, so you know your rights are protected! Because we hire experienced movers and verify that everyone goes through drug testing and a background check we have confidence in our team. Further, all of our movers are trained in customer service. We want you to be sure that you'll be treated with courtesy, respect, and professionalism.
Call us today and discover why we should be your choice in moving companies. Kenmore residents receive a free, no-obligation estimate- we have web specials, too!